Alhamdulillah, lastly, i have an idea to update my lovely blog! hahaha... actually, iman ada jumpa contest.. Contest lagi.. ahahaha... iman nak masuk jugak.. sebab ianya ada kaitan dengan photoshoot.. hahahah.. iman suka photoshoot.. hehehe...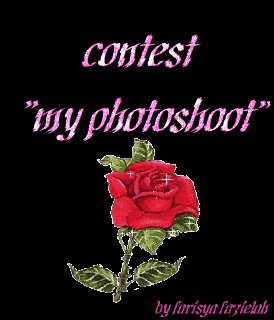 hehehe... interesting, right? hahaha.. that's why i want to participate.. hehehe...
The Conditions Are..
letak BANNER di atas dalam entry anda

letakkan SATU photoshoot anda

dan NYATAKAN lokasi gambar tersebut

letak LINK anda ke ruangan komen
For more information.. visit
Risya
gambar yang dipertaruhkan..
lokasi : Alor Star, Kedah..
gambar ni diambil di halaman rumah Iman.. waktu ni, adik and cousin iman main badminton.. =)
harap2 menang.. insyaAllah... =)
---
Thanks For Reading. You Are Awesome
---